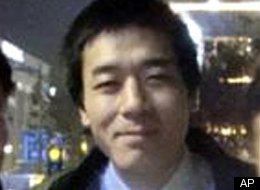 While Southern Arizona's Raul Grijalva enjoys Christmas at home after speaking out in favor of oppressive government, Robert Park today is in North Korean custody for acting out against it.
Park, a Korean American, walked across the border into North Korea today shouting, "I am an American citizen. I brought God's love. God loves you and God bless you." There is no word yet of what has happened to him.
Park's actions, planned for several months and videotaped by friends, appear timed to bring attention to North Korea's horrendous human rights record on a slow news day (but hey, they have a Public Option). He is obviously as politically astute as he is brave. which is why I propose that Southern Arizonans nominate Park as a write in Candidate against Grijalva in the general election this Fall.
Park represents everything that Arizonans stand for: freedom of speech, religion, public expression, and the balls to thumb his nose at tyranny. What more could you ask for in an Arizonan? Grijalva represents none of these ideals. He is a coward who hides behind policies and organizational structures that undermine the work ethic that strengthens. freedom.
So, as an Arizona voter, I can think of no better candidate to restore dignity to our representation in Washington than Robert Park (If he is still alive in November).